An easier & more convenient vet service!
We've all been there. Your pet is unwell, and you're seriously worried. Or maybe it's time for that checkup.
You're searching for the closest vet that is nearby.
But you can't get to the closest vet clinic, or it's after 5PM, or maybe it's a public holiday.
You're searching for "vets open near me"… but you're not having any luck.
We think it's crazy that pet owners who aren't able to access their local vet can't get their pet the treatment it deserves!
Thankfully, Pawssum is here to make vet appointments easier than ever.
Pawwsum's mobile vet services come to you!
Whenever you need a vet, think of Pawssum! We're Australia's number one mobile "vet near me" service.
To date, we've helped over 40,000 Australian pet owners with home visit vet services – and counting!
You now have the option to choose what suits you best!
Pawssum's mobile veterinary service gives you:
The convenience of being able to stay home – no stressful driving, no traffic, just make your appointment and wait.
A relaxing health care experience for your pet. When they're in their own environment, they don't experience any of the triggers attached to the animal hospital environment.
Pet vaccinations, for cats and dogs, including puppies and kittens.
Peaceful home euthanasia for cats and dogs.
Long-term secure storage of your pet's health records using the Pawssum mobile app.
Emergency service including critical care.
Payment plans, with VetPay and ZipPay.
Pawssum pet insurance – coming soon! Real Reviews
Here's what some of our happy customers have to say!
How much do vets near me cost?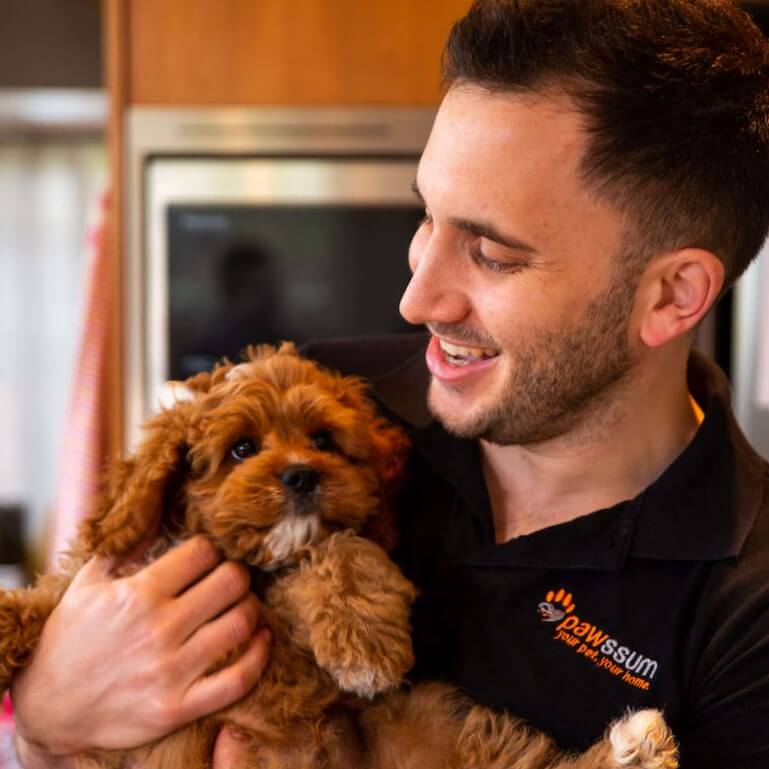 We believe it's the best option to be up-front about all costs and charges involved with veterinary care.
For an accurate price, please reach out to our friendly team, by phone, chat message, or email, and we'll be able to provide you with more information.
Home vet visits start from just $139 (weekdays before 6 PM)
Vaccinations start from $199
Home euthanasia starts from $369
Memorials and cremation start at $399
Weekends, after hours and public holidays attract surcharges to the standard visit price.
Note: some appointments will have extra time charge added to them. We will let you know prior to your appointment.
For a full list of what we offer, please visit our Services page.
Some advantages of using our service:
We are open 7AM to 10:30PM, 7 days a week.
Pawssum is open on all public holidays
We're able to visit your home during lock-down (providing you are not unwell)
Ask our friendly team for more information. We're always here to help!
Trusted by over 40,000 Australian pet owners since 2016 - and counting!
Our Vet Services At-home
Below are key services offered by our experienced and compassionate vets across the country.
Our Locations
We service most of the bigger regional areas around Australia. If your area isn't on the list, chances are it will be - soon!
Sydney, NSW (inc. Central Coast)
Perth, WA
Brisbane, QLD
Melbourne, VIC (inc. Bendigo)
Canberra, ACT
Adelaide, SA
Darwin, NT
Frequently Asked Questions
We answer some of the questions we commonly get asked!