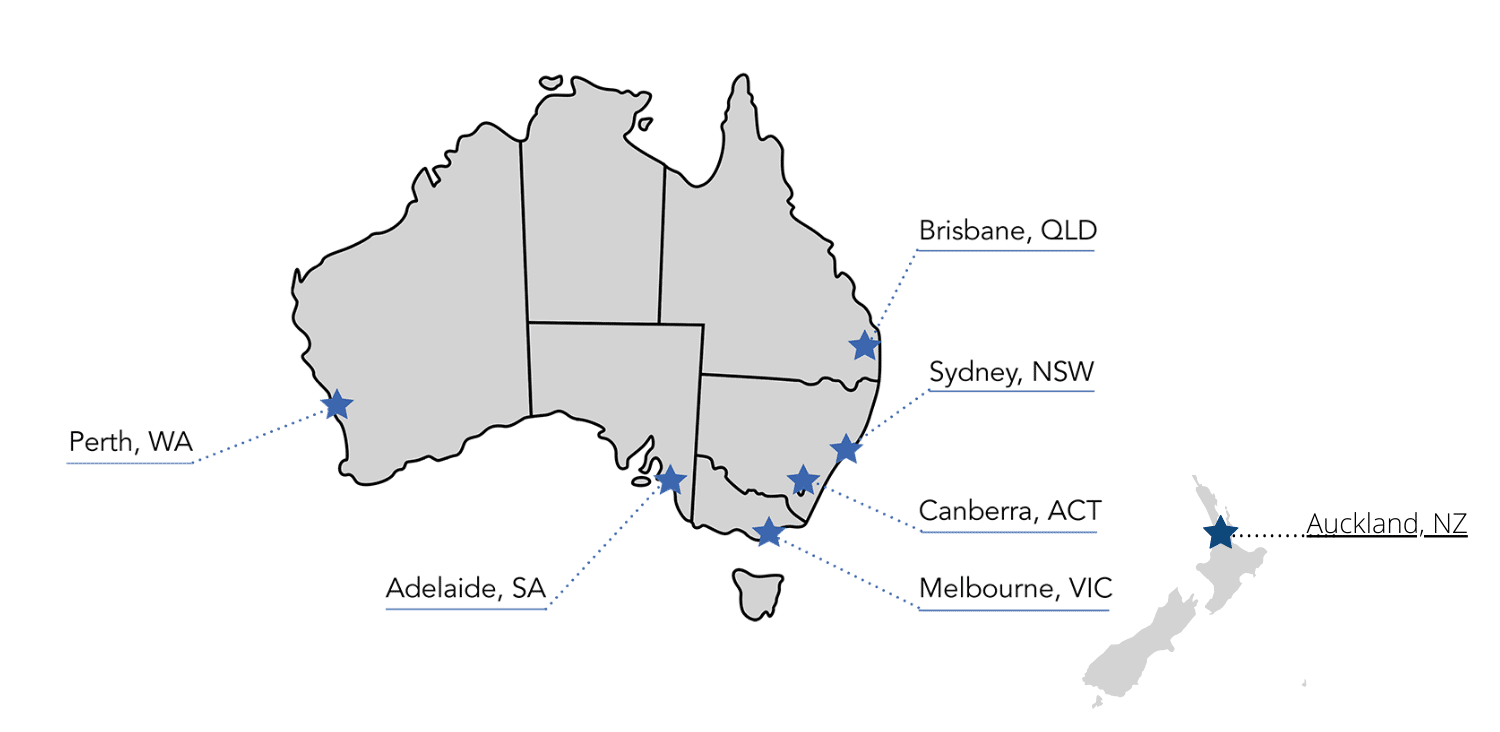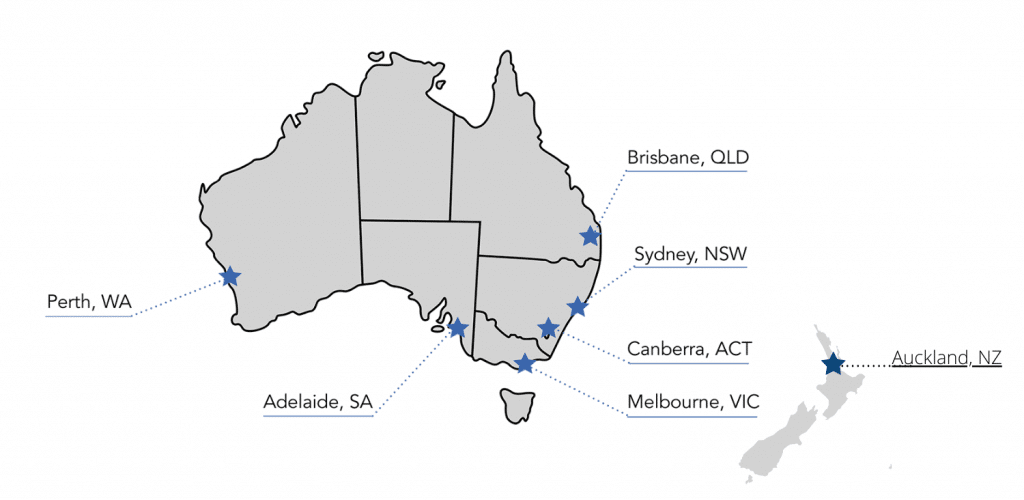 Sydney, NSW (inc. Central Coast)
Perth, WA
Brisbane, QLD
Auckland, New Zealand (New)
Melbourne, VIC (inc. Bendigo)
Canberra, ACT
Adelaide, SA
Darwin, NT
We are continuously working on expanding into more cities throughout Australia.
If you aren't sure if we service pets in your area,
please contact us here or call 1300 34 35 80.
Peaceful Euthanasia
We cannot fault the gentle care and compassion provided by Dr Katie with the peaceful home euthanasia for our dear old girl Zena. Dr Katie explained every step of the process to us and did so with grace, kindness and compassion. We are grateful for the very peaceful process to help Zena pass over the rainbow bridge.

Dog peaceful home Euthanasia
Excellent and professional sympathetic service
I am most impressed with the service provided by pawssum relating to mobile veterinary service. The team were most helpful and managed to locate a vet, David, to come to the house to attend my very sick cat, Sheba. It was early at night on a weekend. The vet arrived at the time arranged and examined Sheba thoroughly and then advised me to make an urgent appointment with my regular vet or an animal hospital and request that xrays of the chest, blood tests and an ultrasound be be taken to confirm the diagnosis and have relevant treatment prescribed as Sheba did have health issues. The vet stressed the importance of doing this within the next 24 hours for optimal care. He also advised me on the medication I could continue giving to the cat. I was most impressed with David's professional assessment of Sheba's condition, his very gentle but caring attitude and reassuring manner. I did manage to get an appointment with my regular vet who ordered the investigations as David suggested and the diagnosis of the worsening of her heart murmur, bronchitis and general lethargy was confirmed. An ultrasound is organised for Tuesday. I am happy to report that Sheba has picked up somewhat after I followed David's suggestion to also keep Sheba very warm and to continue her on the medication she was on. Please thank David for me and let him know I am grateful for the care he showed to Sheba and the excellent advice he gave me to ensure ongoing management. In summary, the mobile vet service you provide is of very high standard, professional and sympathetic. I felt Sheba was in good hands during the consultation. David is a very competent and caring vet, reassuring and an excellent representative of Pawssum. Gratefully, Erika Ironside
Beautiful Nutmeg
Thank you for providing such a wonderful service. We were able to say goodbye to our beautiful Nutmeg in her own home, in her own bed, at a time that suited our entire family & surrounded by her doggo brother & 'her people'. Thank you to Dr Pete who was calm, professional, empathetic & caring. Much appreciated.

Dog peaceful home Euthanasia
Thank you for your kindness
Thank you for your kindness and professionalism Dr Merry. Thank you for allowing me to stay with my dog for as long as I needed. I appreciate all the care you gave her.
I'm glad I found Pawssum and Dr Merry.
Your services were professional, caring, and competent and deeply appreciated.
The emptiness persists but I'm glad I found you.
Thank you for everything.
Forever grateful
Jackie 🐾

Dog peaceful home Euthanasia
Wonderful service
Thankyou Dr. Ivy for visiting my home to do a health check on my 18y.o. Jack RussellX. Dr Ivy's caring and compassion for her little clients is evident, and gentleness with my blind and deaf Roxy was very much appreciated. I am very happy to know that our Roxy will continue to enjoy her latter years under Pawssum's care, when needed. I [my fur family] have been a client of Pawssum for some years now, and I can't fault their caring, kind and wonderfully professional manner with which the vets have provided for my fur family and my human family. I will not hesistate in maintaining our association with Pawssum into the future. To have a vet attend to your beloved fur family members in your home is so much more pleasant than having elderly and/or unwell cats and dogs stressed by leaving their familiar environment and family. Thankyou for all you do.

Amazing
They were very helpful and showed empathy from the start. Vet who came out to put my boy to sleep Dr Beshoy was so caring and took us through each step. Wonderful service to use.
Cat peaceful home Euthanasia
Amazing service and very respectful and attentive
A big thank you to Dr Beshoy and the team at Pawssum for all the gentle and kind support you have provided us since we first got in contact to arrange an appointment, through to Dr Beshoy's amazingly respectful and caring approach and the kindness and thoughtfulness of the team following the loss of our beloved furry family member. We cannot thank you enough, and highly recommend Pawssum.
Cat peaceful home Euthanasia
Trying to get a vet on a Sunday, nearly impawsible . Thank you PAWSSUM
Thank you pawssum for turning out on a Sunday. Home visits much less stressful for our furry companions. Appreciated by all.

Wonderful prompt service
Wonderful follow up as to where the vet was from the company, as he drove to our place and he was very kind as he could be for my sick boy. I thank him very much
Cat peaceful home Euthanasia
Great experience
Quick, efficient and great vet, my cat isn't good with others and the vet respected that and ensured a smooth experience

English Springer Spanial – Chloe
Chloe was a 15 year old ES Spanial. Sadly the mind can be stronger than the body in humans and pets. Dr B. was very caring and made our transition and Chloe's as pain free as possible. Would recommend your service to our friends.
Dog peaceful home Euthanasia
Dr Stuart
Sadly….Dr Stuart Brisbane has had to attend our home twice within the last five months to send two of our seventeen year old babies on to a better place.
While this is one of the hardest decisions we make in life, more than anything we want the transition to be stressless for them.
Dr Stuart thank you so much from the very bottom of my heart for your empathy, compassion, respect and kindness…..not only to me, but more importantly to both Kitten and Pai.
I'm going to have to make the same decision again at some point in the future for my third baby who is also now seventeen…..so Dr Stuart we will meet again, because quite frankly I wouldn't trust another soul with something this momentous.
Cat peaceful home Euthanasia
Professional & Compassionate
Dr Stephen Bennett came to our home after hours and was so compassionate and patient. He has lovely energy and made us feel so comfortable.
The booking process was easy and efficient. The after service has also been prompt and pleasant.
Thank you Stephen for giving us the extra time with Busta and laying her to rest peacefully in our home, the place she would have wanted to be and the place we share so many memories with her.
Without you and the services from Pawssums, we wouldn't have had such beautiful and memorable last moments with her.

Dog peaceful home Euthanasia
a great service
a great service
Dog peaceful home Euthanasia