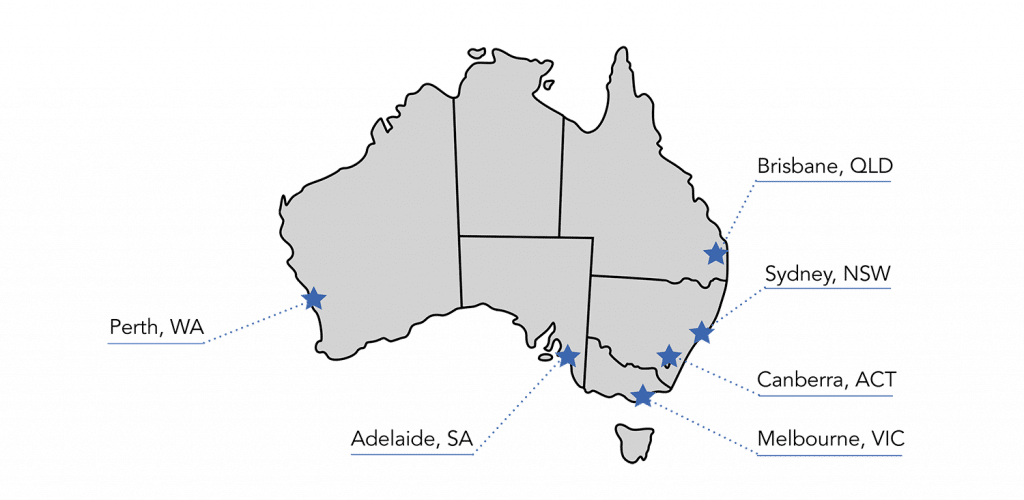 Sydney, NSW (inc. Central Coast)
Perth, WA
Brisbane, QLD
Melbourne, VIC (inc. Bendigo)
Canberra, ACT
Adelaide, SA
Darwin, NT
We are continuously working on expanding into more cities throughout Australia.
If you aren't sure if we service pets in your area,
please contact us here or call 1300 34 35 80.
Very compassionate & understanding
The Pawssum Company is easy to deal with and very parfessional.
Dr Stuart attend our dog Django. Dr Stuart could not have been helpful, compassionate and understanding. He made a very difficult & sad experience as comfortable as possible for us.
Dr Stuart should be proud of his work and is a true Professional.
Lynette & Graham Sims.
Dog peaceful home Euthanasia
Home visit
Service was incredible. Dr was very kind and explained the process before he started. My cat Bonnie went peacefully in her home environment. Highly recommended using Pawssum.

Cat peaceful home Euthanasia
Great 👍
I was very happy that you could organise Vet visit for my cat, although I had to wait until next day, it was worth it to avoid stress for my 17 years old cat. Visiting Vet was great, and phone operator was very understanding. And I think the fee was reasonable. Thank you very much
Almost too easy!
I'd been adopted by a cat for about a month or so but had no idea of history or vaccinations or even gender, so eventually I thought it best to have it all checked out. As a non-driver, Pawssum became an obvious choice. The price seemed fine and I was hugely impressed that I was able to get an appointment for noon on the same day (I arranged it very early in the AM and it was confirmed once working hours began).
Dr Bahaa was even a bit early which was good, and after some trepidation on the cat's behalf, we managed to find out she was a she, and already microchipped, so he got in touch with Tiff the cat's actual owner.
The end result – it was a nearby neighbour. We had a chat, and the neighbour is very happy for Tiff to keep visiting here, and now if Tiff doesn't come home (to the neighbour's house or mine) we know she's probably at the other place instead! Which is less worry for all concerned. Also, the cat already has a vet so I now know I don't need to be the one arranging that. So I'm getting all the cuddles and company without the need to worry about that other side of it. Win / win.
But it was Dr Bahaa and Pawssum that got it to that point, and I'm grateful for the efficiency of it all.
I could not have happier
I could not have happier with the service received during our time of need. I would recommend pawssum to anyone.

Dog peaceful home Euthanasia
Thank you so much for
Thank you so much for helping Nala , what a wonderful service, Dr Julie is fantastic!!
Would recommend
Missy is a recent rescue who can't handle the car yet so it was great being able to get someone here. Dr Justin was kind to her and her medical problem is already improving.

grateful customer
Pawssum, the vet and the crematorium representative were all sympathetic, gentle and understanding. They made a difficult time less stressful.
Cat peaceful home Euthanasia
Home heath checks
Had both my dog and cat vaccinated at home. Dr Justin is gentle and caring and makes my animals and I feel very comfortable. Thank you

Dr Julie's Home Visit
Having Dr Julie over was so amazing. Not only did it reduce the amount of stress Dexie had to endure, but the level of care and advice given by Dr Julie was of high quality. You can really tell that she genuinely cares about her patients!

Pawssum - Vet to home services
Thank you very much to
Thank you very much to Dr Beshoy for your extremely professional & gentle manner while dealing with my beautiful cat Misti. I was beside myself & I was in such a state & DR Beshoy helped to reassure me & explained everything to me about what was going to happen. He was very gentle with Misti & I was so pleased & he even wrapped her in her bunny rug & then into another cloth for me so as I wouldn't be more distressed. The service was very good & kind & I appreciated the support that Dr Beshoy extended to me. I shall be recommending your business to all my friends & colleagues.
Thank you & kind regards Denise Walsh
Cat peaceful home Euthanasia
Reassuring
I was very pleased with the way my beloved pet was treated…Dr Stephen was very
Compassionate in the way he put my pet to sleep..I have had another pet done years
ago and the experience was quite traumatic for both myself and my pet…so glad I made the right choice this time by contacting pawssum I highly recommend them.
Dog peaceful home Euthanasia
Fabulous service
Thank you so much for your wonderful service. You went above and beyond to help me and I am so very grateful. You all showed such empathy and Dr Kerri was fabulous and so caring. I can't thank you enough and will tell everyone how wonderful you are
Pawssum - Vet to home services
Beyond excellence
Dr Julie and her colleague were exceptional They were both extremely kind and considerate towards Smudge and myself (and husband too!) The service was very efficient and easy to use
Thank you everyone so very much
Caring and professional
Everything about the process with Pawssum is designed to lighten the emotional load of saying goodbye to a beloved family member. Making the booking is easy, and the vet was very gentle and calm, with us and our dog. Highly recommend.
Dog peaceful home Euthanasia