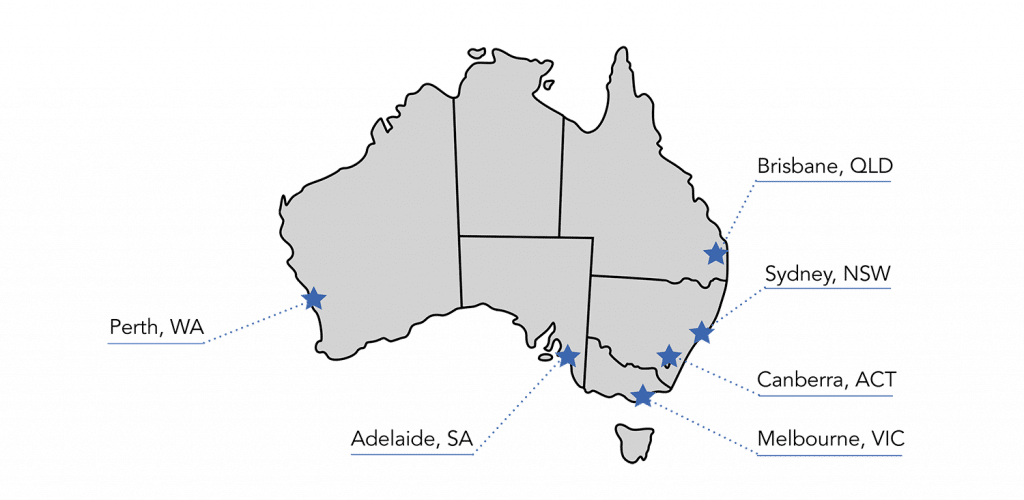 Sydney, NSW (inc. Central Coast)
Perth, WA
Brisbane, QLD
Melbourne, VIC (inc. Bendigo)
Canberra, ACT
Adelaide, SA
Darwin, NT
We are continuously working on expanding into more cities throughout Australia.
If you aren't sure if we service pets in your area,
please contact us here or call 1300 34 35 80.
So caring and kind
I can't thank your wonderful vet, Stephen, enough; his kindness, compassion and personalism was such a comfort in caring for Velvert His true love of animals was so obvious and we will always be grateful. I whole heartedly recommend Pawssum to care for your pets in their own home. They are transparent, reliable and sincerely caring x

Cat peaceful home Euthanasia
Saying goodbye
Dr Niquet was compassionate and caring during the process explaining every step and ensuring we were comfortable with what she was doing. She never rushed us, she enabled us to say goodbye in a calm peaceful way.
Dog peaceful home Euthanasia
Kind and caring
Dr Bahaar attended my home to see my very frightened cat. I found Dr Bahaar to be very kind and caring and extremely patient.
Fantastic service
Justin looked after our Charlie so well. He was so kind and efficient. Just a great service from booking to consult. Prices were more than reasonable for a home visit. Charlie is feeling much better today. Thank you so much. Would highly recommend.
Great service
Could not be happier with this service. Kept me up to date about arrival times,and I felt that the vet was more thorough and caring than my normal vet. Would highly recommend this service from start to finish.
Matty's Journey to Heaven
Thank you for coming out to my home, it was so stress free without any fuss. Matty was able to sit in her special place and peacefully drift off comfortably to heaven. She will be in our hearts always and sadly missed. Thank you so much to Pawssum Vets for making this easy for our family.

Dog peaceful home Euthanasia
Pawssum Vet home services
Excellent, prompt service.
Dr Stephen was very helpful and knowledgeable.
Very happy with the service.
Dr Stephen was fantastic and caring
Our old puppy girl was put to sleep and Dr Stephen was fantastic, we will ask for him again when needed
Dog peaceful home Euthanasia
Excellent Service, Highly Recommend
Thank you for providing a wonderful service and keeping in touch throughout the process as it certainly help with reducing the stress levels. Thank you to Dr Bishay for his prompt attention and very detailed explanations.
Pawssum was very empathetic
Pawsumm was very empathetic and sympathetic when I contacted them. Dr Shadi was very kind and calm and made the euthanasia process comfortable for our 17 year old girl Sally with my daughter and myself
. The aftercare team have been very helpful with choosing the right package for us to get Sally back to us.
Dog peaceful home Euthanasia
At home consult
Dr Beshoy was very calm and managed Millie very well. Millie is deaf and is usually not a happy cat when visiting the vet. The at home consult kept her calm.
I was very happy with the service I received from the booking to the home visit.
Thank you
Thankyou Dr Peter for coming out to see Zeus on Saturday
He is feeling much better now so the medicine you gave him helped.
I was very happy with my experience with Pawssum.
Professional and Caring
It's so hard to realise you have to choose the day of your loved one.
From start to end everyone I dealt with was so compassionate and understanding.
I cannot praise all involved enough.
Thank you
Cat peaceful home Euthanasia
Thank you
Thank you sincerely Dr Bahaa for your warm and reassuring presence at the end of our beloved standard poodle Mimi's life. We are so glad we chose home euthanasia as her sister Coco was also able to say goodbye. We will continue to use Pawssum for vet visits for Coco. Much nicer environment for all.
Dog peaceful home Euthanasia
Caring and Compassionate
Dr David was so wonderful! He was caring and compassionate and was so lovely to our beloved cat. It was a sad and difficult occasion and Dr David was very patient and provided exceptional care. This man was born to be a vet!! His love for animals is very obvious and Dr David's caring nature towards people is just lovely. We thank you from the bottom of our hearts.
Cat peaceful home Euthanasia