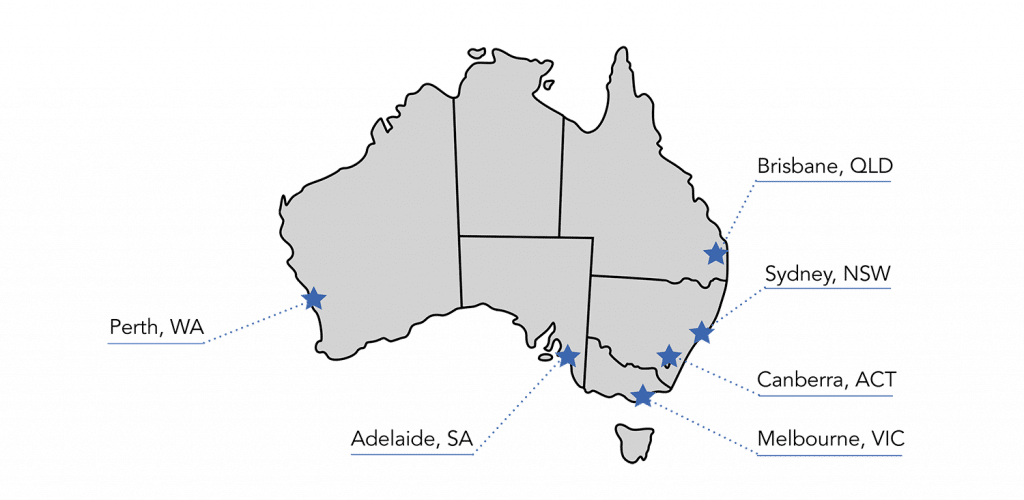 Sydney, NSW (inc. Central Coast)
Perth, WA
Brisbane, QLD
Melbourne, VIC (inc. Bendigo)
Canberra, ACT
Adelaide, SA
Darwin, NT
We are continuously working on expanding into more cities throughout Australia.
If you aren't sure if we service pets in your area,
please contact us here or call 1300 34 35 80.
A great service
Very happy with consult Tommy was very anxious but vet took the time to calm him down and make him feel comfortable will definitely use again and tell friends
Great service
Great service. My best mate collapsed which was very stressful for all involved.could not get him to surgery as he's a big heavy dog
Phoned pawssum who were great.Nick arrived exactly at arranged time and interacted well with dog and owner.left all reassured and informed of condition and future treatments required. Would recommend pawssum as an alternative to surgeries as less stressful to animal being treated at home..
Happy
Arrived on time, were thorough in the examination and treatment of our cat. The attending vet was friendly, the cat was comfortable with him and he answered all our questions. Would definitely use again.

Very efficient and easy to use
An very easy way to have my cat vaccinated and avoid the trauma she seems to experience when take in a car to the vet or cattery. Very efficient and the vet was caring and gentle.
Holly
Dr Stuart was very caring in a very sad time.
Thanks.
Dog peaceful home Euthanasia
Caring and compassionate
We had the vet Dr Shadi come out to us. He was a very compassionate man who explained everything to us , he was kind and considerate as he helped our senior soul Fonzie cross over the rainbow bridge. We cannot fault them and will be using them again in the future.

Dog peaceful home Euthanasia
Thanks for allowing my beautiful girl to be peacefully euthanised at home
Thanks for such a caring and supportive service in allowing my beautiful girl to be peacefully euthanised at home.

Cat peaceful home Euthanasia
Pawssum is essential service
Pawssum is essential service that is there and does what it says.
Very Very sad and distraught with the passing of Goldy who after 11 years was always with me work and home.
At all times all of the people involved were helpful kind and considerate.
The vet was special he organised the picking up from my place.
Nothing was an issue.
Thank you very much for being there.
Mark
Dog peaceful home Euthanasia
Euthanasia
Lauren was wonderful at what was a very difficult time for me. She was patient and compassionate and even though it took quite some time to euthanise Charlie due to his bad veins (his poor little heart was so damaged he was not pumping enough blood to his extremities) she persisted. I was able to hold Charlie close to me the whole time and he was not distressed in any way and she even took a paw print for me. She made a very sad time for me so much easier with her compassionate and patient demeanour. I would certainly use this service again.
Dog peaceful home Euthanasia
Awesome service and experience
I really enjoyed the whole experience from beginning to the end. Pawssum's customer service was great and we really good experience with Dr Ivy and she gave us the right advise related to our dogs health. Thank you and i will be booking again for any vet needs for my dogs.

Thank you
I cannot thank you enough I phoned Sunday morning as our beautiful dog Misty had taken a turn for the worse over the weekend, Dr Scott was there within 2 hrs explained how and what would happen. It was very peaceful and allowed our family to grieve for our much love dog in our own home, excusing himself which was lovely as we said our final goodbyes
Highly recommend there service for a very difficult time when putting down your beloved pet
Thank you
Dog peaceful home Euthanasia
My beautiful boy
I can't thank you enough for how caring and understanding from my Initial phone call to the beautiful lady I spoke to on the phone to the vet the lady that took my beautiful boy it was just the most beautiful and loving way to say goodbye to my boy and I thank you
Dog peaceful home Euthanasia
Respectful, professional and caring
Very pleased with the whole experience under very trying circumstances for us. Dr stefanos Took his time, explained the process and made Cleo very relaxed. Very happy to recommend his services
Dog peaceful home Euthanasia, Pawssum - Vet to home services
Wonderful, caring vet service.
I rang Pawsumm and spoke to a lovely lady and explained that my dog was in heart failure and needed a vet to visit. She was very caring and helpful and arranged for the vet to make contact regarding the appointment.
Dr Bahaa came to visit our beautiful cairn terrier Ruby who is 17 years old . He was very thorough, and checked her medication and explained where Ruby is at medically and what to do in the future. My husband and myself were so grateful for his medical information, which we have taken onboard, and will be in touch with Pawssum in the future.
Thank you Dr Bahaa .

Vet Peter was very efficient and understanding
Vet Peter was very efficient and understanding at this very emotional time. It all went smoothly and I felt I had made the best choice for my furry friend.
Cat peaceful home Euthanasia