Pawssum provides pet owners across Australia
easy and convenient access to vet services
in the comfort of their homes,
from local and trusted vet partners.
Founded by Guy Sharabi and Barry Green in 2016, the idea was inspired by a friend who had a sick pet at home with her son, with no available vets in the area to make a house visit. Pawssum was then launched with the mission to provide pet owners affordable, available and accessible home vet services.
To date Pawssum vets have serviced over 19,500 pets at home with over 180 vet partners across Australia.
For booking enquiries please use our contact form or call 1300 34 35 80.
For press or partner enquiries,
please use our contact form.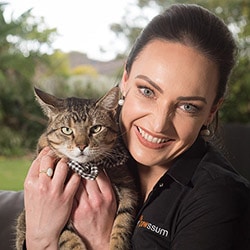 Dr Louisa Fenny
WA State Manager
Dr Louisa graduated from Murdoch University in 2005 with a BVMS and is a friendly and compassionate vet with over ten years of experience in her field. She takes pride in being able to listen to, and understand, what pet owners and their pets truly need. Being the daughter of a Vet, she has lived and breathed animal care for as long as she can remember. Despite her experience, she will never hesitate to seek a second opinion or specialist advice to ensure the best possible care is given as she understands your pets' health is paramount.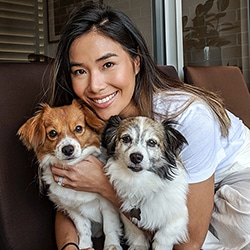 Joy Fong
Business Growth Manager
Joy develops and executes the strategy behind exciting partnerships and collaborations with like-minded individuals and organisations. Together with her sidekicks Cluedo and Momo, she aims to spread awareness of the importance of pet health care and how Pawssum can provide the best, most convenient and effective care for everyone's furry family members.