Quality and professional at-home pet care services using trusted, local vets
Available Australia-wide and New Zealand
Open 7 days a week 7:30am-10:30pm including public holidays
Home visits start from $159
Our mobile vets ensure that looking after your pet is done in a calm, comfortable and professional way. Instead of driving your pet, our vets provide the convenience of coming to your home.
Make the vet visit so much easier by having your much-loved pet get checked up in a warm, familiar place.
With our at-home service your beloved friend is surrounded by the people who love them most.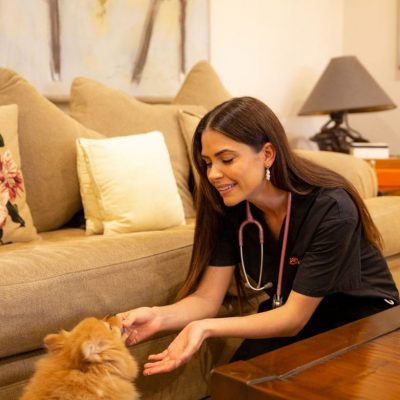 Our customers say Excellent ⭐⭐⭐⭐⭐ 4.86 out of 5 based on 500+ reviews
Sydney, NSW (inc. Central Coast)
Perth, WA
Brisbane, QLD
Auckland, NZ
Melbourne, VIC (inc. Bendigo)
Canberra, ACT
Adelaide, SA
Darwin, NT
Jonathon Clarke
November 6, 2023
Compassionate and gentle
Dr. Beshoy was wonderful in helping us assist our Pug Nibbler across the rainbow bridge. Gentle and compassionate, he was very obviously sympathetic to our strong emotions on the day and he treated our boy like he was his own.… I cannot thank him enough, he made a day that was always going to be heartbreaking just that little bit more bearable. Read more "Compassionate and gentle"
Nicky Rooney
November 6, 2023
Dr Julia was awesome
Easy booking process, great communication, and vet was able to attend quite quickly on a Saturday, even though it wasn't an emergency. Our cat Storm has had some recent bad experiences at vet surgeries, which makes him very anxious and… a bit aggressive – we were recently told we would have to sedate him heavily to bring him in for a consultation. We booked a home visit with Dr Julia and it was amazing – he was very happy in his own environment, and just thought Dr Julia was giving him lots of cuddles. Dr Julia was very knowledgeable, kind & caring. She came up with some very helpful suggestions on how to proceed with his condition, and left me feeling very reassured. Read more "Dr Julia was awesome"
Gail Cook
November 6, 2023
Very compassionate.
Dr Stuart was just so warm and kind to our elderly cats needs. We did end of like care for 4 weeks. He made sure she was comfortable. And returned on our request. So glad we found a vet service… that came to our home. Thanks so very much. R.I.P Ziva. Read more "Very compassionate."
Raelene Farrugia
November 6, 2023
Genuine and Gentle
Pawsumms is the most wonderful service.
To have Dr Tamara come to our home took away the clinical aspect and it was a more relaxing experience for Ethan our 15 year old spoodle and our family . Dr Tamara… came out and watched Ethan for quite a while ,I had asked for her to come for a Quality of life assessment She had seen him a few times towards the end.
Sadly it was time to let Ethan pass.
I had asked for Dr Tamara there was no other vet I wanted at this incredibly sad time in our lives and am grateful that she was so patient and genuine. I'm so glad I chose a home passing it was also very special. Read more "Genuine and Gentle"
Christine Barnes
November 6, 2023
Highly recommend Dr Beshoy
Dr Beshoy was very patient and understanding with both my Rosie and myself. As hard as the process was to say goodbye, Dr Beshoy was able to give my much loved Rosie a very peaceful departure to doggie heaven.
Tarnia MCDowall
November 6, 2023
Thoughtful and Kind
Dr Stuart was so compassionate and gentle during our quality of life assessment and then enabled us to provide a peaceful loving goodbye to our beloved Labrador, when the time was right. Highly recommend this service as a stress free… way for our pets to be offered quality care. Read more "Thoughtful and Kind"
Cassi S
November 6, 2023
Great come to you service!
Dr Kaitie was fantastic, really appreciated her coming to my home. She's fantastic with cats, and was so gentle with mine. Showed me what I needed to do (with cat nail trimming, which I was worried about), and even had… my cat coming back for pats despite having just been vet poked and prodding. As a cat owner, you know your cat is okay if they're accepting Hooman worship after the INDIGNITY of vet examination. My little black cat says "5 stars; would let her come in the house again (though hopefuly Dr Kaitie doesn't need to come again any time soon)". Read more "Great come to you service!"
Kaye Bottomley
November 6, 2023
Dr Stephen Bennet
I can not Praise Dr. Stephens Empathy and Love he showed to my Darling Puddah before she crossed over to Rainbow Bridge 🙁 …. he was EXCELLENT & Professional and made such a hard choice as easy as it could… be Read more "Dr Stephen Bennet"