Pawssum provides pet care by trusted, local vets in the comfort of your home
Open 365 days, 7:30am-10:30pm
Saying goodbye to your pet with compassionate and dignified veterinary care is so important to pet owners. Our pets are our best friends and they show us unconditional love and adoration. Pets are like family and the companionship they share with us is always treasured. When the time comes, losing a pet is a sad and emotional journey. It means saying our last goodbyes and holding their paw in our hands remembering all the special adventures we have shared together over the years. Allowing a pet to pass that has been suffering, is relieving them of this burden of pain and discomfort. With kindness and compassion, we know they deserve better than to suffer.
"It is the most unselfish act in all of life to let one go that we have found beloved."
 – Kate McGahan
For more information, call us on 1300 34 35 80, use the chat at the bottom of the page, or send a message to us here.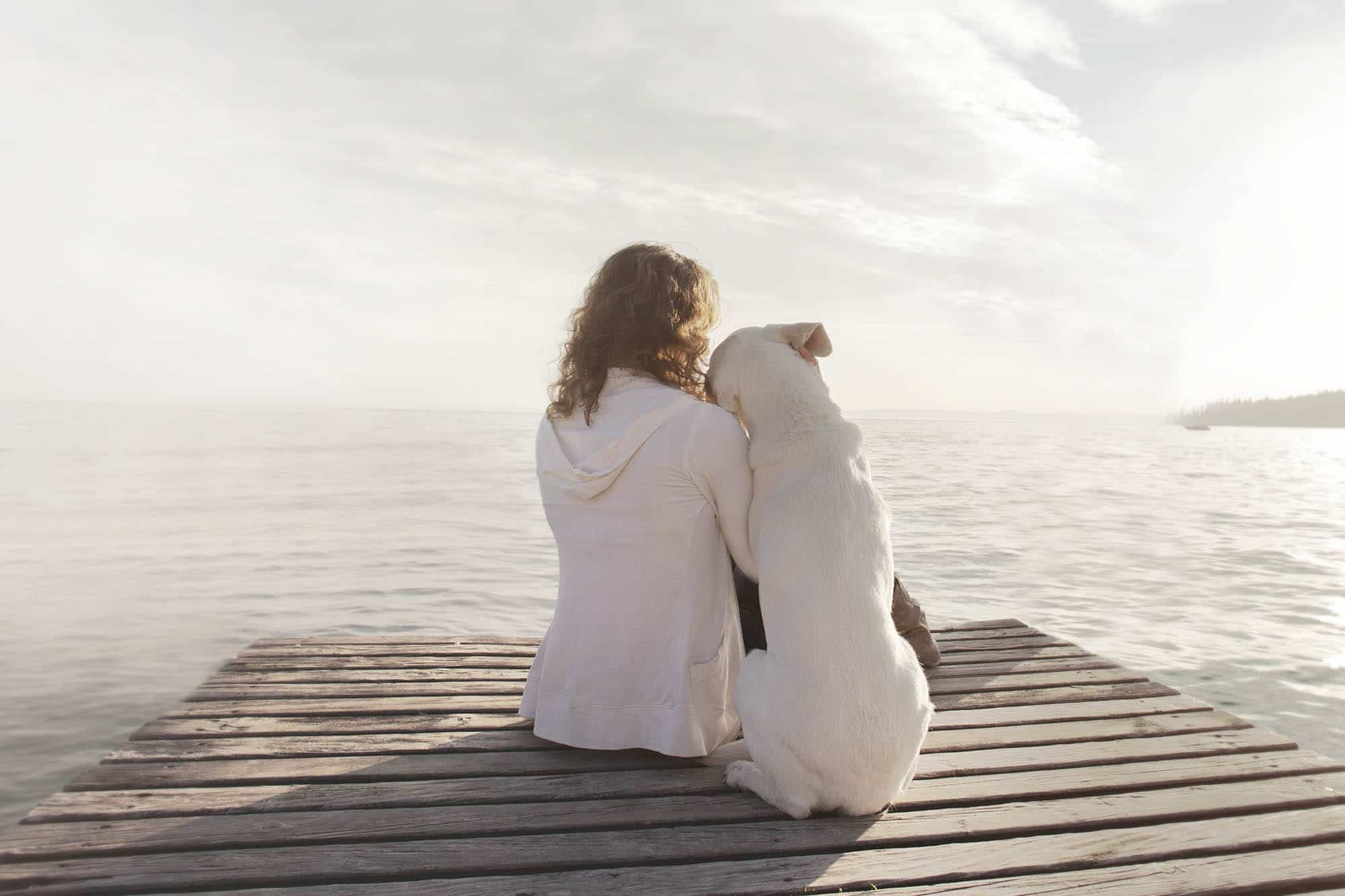 Home Pet Euthanasia: the Experience
Whenever I arrive to perform a euthanasia it is always a very personal and heart felt experience. I want to be able to assist clients to say goodbye to their pets with compassion, dignity and love.
Working as a Home Euthanasia vet, you always have certain cases that particularly touch your heart. I would like to share the story of one of my clients, that reflects this difficult decision but also the relief following. I remember arriving and meeting "Oscar", he was a handsome Labrador X but he looked tired and lacked the sparkle in his eye. The owner, Sally, shared with me the story of Oscar. Oscar was a birthday present 12 years ago from her children, concerned she would be lonely after suddenly losing her husband. Sally remembers holding Oscar in her arms as a puppy and he was just the cutest thing. It was thought Oscar would grow to only be 25kg but an enormous 48kg later… he was an absolute gentleman. Oscar was the best man in Sally's life and was described as being reliable, predictable and never went to the pub on a Friday night. Instead chose to snuggle and watch any romantic movie with her, without any word of complaint. The perfect man.
Sally was clearly very upset about my arrival and I could see the strong bond she shared with her handsome boy. Oscar would look at Sally and just instantly have a gentle tail wag and his eyes would light up. Sally would scratch behind Oscar's ears and talk to him with such love and kindness. It was breaking her heart to see him in pain and discomfort and not be able to help or relieve it. Oscar had been diagnosed with a bone cancer called osteosarcoma and was also experiencing such severe arthritis that he was finding it hard to stand-up. He wasn't a suitable candidate for amputation surgery. Sally had tried medications for him but even these didn't seem to help him now. Oscar was in daily pain and his quality of life was now poor.
At this point of the consult, I asked Sally if it would be ok if I was to light a remembrance candle and explained that I wanted her to keep this and light it again when she wanted to feel close to Oscar. I put on some relaxing music in the background that would help to keep Oscar calm. We filled in the consent form together and I discussed the procedure and the techniques I was going to use to keep Oscar feeling calm. I administered a sedation needle to Oscar and this relaxed him within 5 minutes. I could see Sally feel calmer when she could see Oscar was no longer experiencing the pain. She sat with his head resting on her lap as I carefully placed the catheter. She stroked his head and talked gently to him. Oscar passed peacefully away with Sally right by his side. After the procedure Sally described the emotion's she was feeling which was a mix of heart break but also relief. She knew it was the kindest decision for Oscar and she hoped he was now at peace.
Sally had requested a private cremation, as she wanted to have Oscar's ashes returned. On the day these arrived she sent me a beautiful message and a photo of the ashes scattered on the water at Oscar's favourite beach. Sally had picked flowers to float on the surface of the water so she could watch the ashes drift away into the distance.
Evaluating quality of life
It can be hard to tell if your pet is in pain or discomfort, so a vet-check prior to making this heart wrenching decision is really important. There may also be treatment options to keep your pet healthy and happy for longer. If your pet is in constant pain or discomfort, despite medical treatment and does not seem to get any enjoyment out of life, it may be time to consider euthanasia. Signs that your pet may have a poor quality of life include:
Pain that cannot be controlled with medication. In many cases, pets can continue to enjoy life if their pain is relieved by medications. When medication no longer helps, it may be the right time for euthanasia. If you have difficulty gauging the pain level, ask our veterinarians for input.
Constant gastrointestinal issues. As your pet becomes sicker, vomiting and diarrhoea can become daily occurrences. Not surprisingly, these issues can cause your furry friend to lose weight and become dehydrated and lethargic.
Difficulty Breathing. Is every breath a struggle for your pet? Trouble breathing can be very uncomfortable and even painful.
Prognosis. Talk to our veterinarians about his or her prognosis. In some cases, even aggressive treatment will not save your companion, but will prolong suffering. When your pet's prognosis is poor, euthanasia can prevent unnecessary suffering.
Incontinence. At some point, a seriously ill pet may no longer to control its bladder or bowels.
Inability to walk. As your pet becomes weaker, walking can become an issue. Mobility can also be an issue if a stroke or other condition affects your pet's hind legs. Slings can help older pets get up and navigate short distances and specially designed wheelchairs can help pets with limb immobility and may be a good choice if your dog is in otherwise good health – be sure to ask our partner vets about options.
Who should be involved in the decision?
Including all members of your household in the decision can prevent hurt feelings during an already emotional time. Explain that your pet will not recover from the illness or condition and is suffering, despite the excellent care you have provided. Even younger children can be involved in the discussion if you use age appropriate language. Although immediate euthanasia may be needed to prevent suffering in severe circumstances, the procedure can be delayed long enough to allow enough time for everyone who cares about your pet to say goodbye in most situations. It is also important to let other pets in the household to smell your pet after they have passed away – it is their way of saying goodbye too.
After you make your decision, you can proceed to book your at-home pet euthanasia with Pawssum. One of our trusted and compassionate vets will contact you to walk you through the process, options and answer any questions you have.
How far in advance should I make my booking?
Our at home peaceful euthanasia service allows the pet to be attended to in an environment where they feel safe and loved. Our partner vets are all lovely and very compassionate which is very important to us. We get fantastic feedback from customers that this service helped them during a very hard time.
If we are given 24 hours notice that is fantastic, however we realise sometimes this can not be the case. We will always try to get to you when you need us however we can obviously never promise anything until we receive the booking and confirm it with the vets.
How will I know when it is the right time for my pet?
As a guide you should consider the list below as some of the most common signs that an animal is in pain or has a decreased quality of life.
Has your pet lost interest in their favourite activities such as walking, playing or interacting with you and other family members?
Is your pet in pain or discomfort that cannot be alleviated by medical treatment?
Is the treatment of your pet's condition no longer possible?
Is your pet suffering from ongoing lack of appetite or vomiting?
Is your pet able to move independently to food, water bowl and toileting locations?
Has your pet been found sleeping or hiding in unusual places?
If you are unsure if it is the right time, then you can book a Quality of Life assessment with Pawssum.
A quality of life assessment is where a vet will discuss with you the general overall health of your pet, level of pain or suffering present and welfare issues. I often find owners can be torn between doing the right thing by their pet and not wanting to let go of a dearly treasured life-long friend. This is a common feeling and we can assist you with our professional knowledge on animal health, behaviour and welfare. By consulting with us we can assist in making the kindest decision for your pet.
Why choose a Home Euthanasia for your Pet: Compassion + Calmness.
Pawssum are wanting to make life easier for Pet owners with a vet coming to your home to assist during this difficult time.
Many pets get frightened or fearful during car rides or trips to the vets. We want the pet to be in the most comfortable location they would choose.
The entire outing to a vet's can be both anxious, stressful and exhausting for both the pet and the owner.
Owners don't need to wait to have their pets seen the next day, we provide afterhours home visits for euthanasia.
A home euthanasia for a beloved pet allows their last moments to be more comfortable and relaxed.
Pets are calmer at home, it is often quieter than a clinic and no strange smells that may make them feel anxious, fearful or stressed.
Pet owners also find they can grieve freely in their own home with their loved one's present.
Deciding if you want to be present or not?
This can be a very personal decision. Sometimes certain members of the family may choose to be present while others would prefer not to. The family is always allowed to stay with the pet during every step of the process. Each individual, may have different feelings about this moment, it can be important to discuss this as a family. The consideration of children being present is also a personal one. The ages and maturity of the children should be considered.
The aftercare of your pet: Pawssum staff will assist to organise everything for you to make it easier.
The lovely Pawssum staff will assist you with organising the visit, aftercare and ashes returned in your preferred urn. This can be arranged with very professional and caring pet cremation and burial services available. Your pet can be collected from your home by the pet cremation staff or transferred by the veterinarian in attendance. Some pet owners may want to bury their pet at home but please be aware that different local councils may have restrictions on this.
Private Cremation Services
This is a way to honour and cherish your pet's life with ashes returned so you can scatter or keep in a beautiful personalised keepsake urn. Celebrating your pet's life with a beautiful remembrance urn can allow you to always feel close. A range of different urns are available to choose from. Some owners choose to have a memorial stone placed in the garden which was their pet's favourite spot to enjoy the warmth of sunshine.  The scatter boxes are a nice option for owners not wishing for an urn but would like to scatter their pet's ashes somewhere meaningful. It may be in the garden, down by the beach or a special place in the mountains you used to go hiking together. However, you wish to honour your pet's life a private cremation gives you the opportunity to farewell them in a very loving and memorable way.
General Cremation Services
This is for owners that have decided they don't wish to have their pet's ashes returned. We often find some owners change their mind after so please take the time to decide as we want to support you during this difficult time. The feeling many owners have when the ashes are returned to them is very special and heart-warming.
We offer payment plans to reduce the stress and give you the opportunity to farewell your pet in the way they deserve. The friendly staff at Pawssum are here to offer you support and guidance to make this process as pain free as possible.
Some suggestions for personal remembrance of your beloved pet include:
Save a piece of your pet's fur
Plant a tree in honour of your pet
Scattering ashes in a favourite place
Paw print remembrance
Candle ceremony
Hold a memorial service
Compile a photo album, scrapbook or memory box
Encourage children to draw or paint pictures to help express their love and grief
Locket for Ashes
Garden memorial stone
Different people experience grief in different ways. Pets are a very special part of any family, and their passing is deeply felt by all.
Sometimes the grief experienced is overwhelming and if severe this can make normal life unmanageable. Professional counselling is available to support you through this journey.
If you are having difficulty coping with issues of pet loss, please speak with a therapist who will understand and support you.
Pets and People operate a 24 hour pet loss support line: phone 1300 431 450 (fees apply) petsandpeople.com.au
Lifeline 24 hour counselling service: phone 13 11 14 lifeline.org.au
Please contact us at Pawssum so we can assist your pet with kindness & compassion.
www.pawssum.com 1300-343-580
Written By Dr. C Stokes BSc BVMS MANZCVS (Veterinary Behaviour)