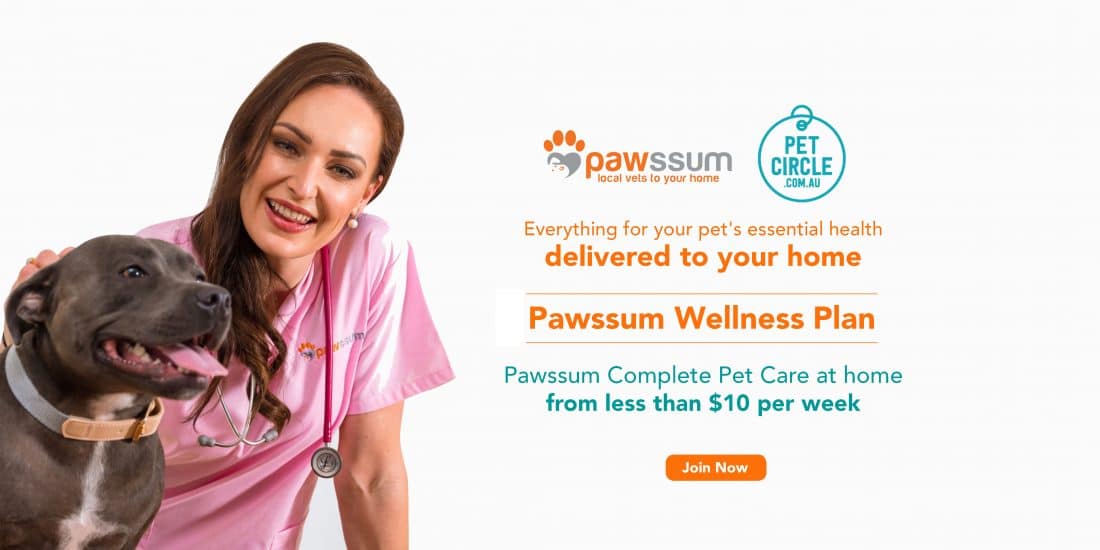 Pet Circle & Pawssum have partnered to give your pet all the essentials for their health and wellness.
Delivered straight to your home.
What is the Pawssum Pet Home Plan?
We recognise that everyone is busy, including pet owners.
Together with Pet Circle, we're introducing
Australia's FIRST Pet Home Plan all delivered to your home.
An affordable and convenient annual plan to give your pets the essential care they need, right in the comfort of your home.
Simply choose your health plan, and leave it to us. Hassle and stress-free without having to even leave your home.
In proud partnership with
What do the plans include?
Pawssum Pet Home Plans have been designed by our trusted and expert veterinarians, specially for the long term health and happiness of your pets. Each plan uses leading premium brand treatments and includes all necessary inclusions to ensure your pet is well protected.

Annual Vaccinations & Microchipping
Annual C5 or F3 vaccinations right at home. Microchipping included if required.

Parasite Prevention Delivered to your Home
In partnership with Pet Circle, 6 monthly parasite prevention delivered to your door.

Pawssum Home Vet Consultations
1 additional vet consultation in the comfort of your home.

Telepet Vet Video Consultations
2 Telepet video call consultations with a trusted Pawssum vet.

Dental Checks
Thorough examination of your pet's teeth with continuity of service if additional treatment is required.

Nail Clipping & Nutritional Advice
Nail clipping and nutritional advice provided by an experienced Pawssum vet during your home visit.

Exclusive Discounts on Vet Services
Up to 10% on additional vet services including blood tests, DNA testing & titer testing.

Exclusive Discount on Pet Food
7% off your pet's favourite food from Pet Circle if you're a new customer, delivered to your home.
Why did we create the Pawssum Pet Home Plan?
Pawssum vets are passionate about pets and know that they're family too.
They deserve the best care possible and we truly believe preventative care is hugely beneficial to ensure the health the longevity of your pets.
As pet owners, we also know life gets busy – so how could we make it convenient for pet owners to give their furry family members the best care?
Joining forces with Pet Circle, Australia's leading online pet supplies retailer, our aim is to make it as easy as possible for pet owners to
provide the best preventative care for their pets' health and wellness.
That's why we created the Pawssum Pet Home Plan to have all the essentials including health checks,
vaccinations, parasite prevention, sick pet consultations and many other benefits – delivered straight to your home.
There's no more need to set a reminder for parasite prevention or vaccination due dates – we'll do it all for you.
Best of all, its all right in the comfort of your home.